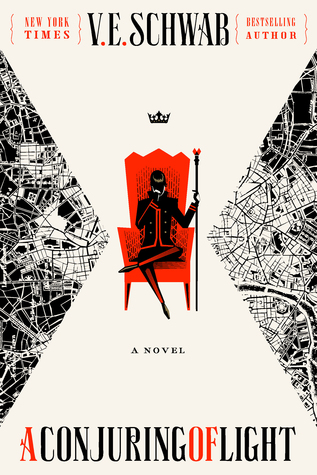 A Conjuring of Light, by V.E. Schwab
Genres: Adult, Fantasy
Rating: ✮✮✮✮
"Scars are not shameful, not unless you let them be. If you do not wear them, they will wear you."
(^This song reminds me so much of this book.)
I have no idea how to review this book. I really, really don't. I feel like I've said everything already in my reviews for A Darker Shade of Magic and A Gathering of Shadows. The character development, the world-building, the writing – all of it is magnificent. The entire series is a masterpiece.
Was A Conjuring of Light a bit slow? Yes. It's a 600+ page book, and there was a lot of traveling involved. Was the ending a bit underwhelming? Yes. Definitely yes. Do I think the previous books were better? Absolutely – but this book still had the thing that I love the most, the thing that really made me fall in love with it. When it comes to books, there is one quality that I admire the most. I love crafted writing and I love a lot of action, but there's something that a book can have that a writer can't really learn. It's an attribute to the book that develops all on its own.
Potency. Semblance. Realism. When a book opens itself up and completely swallows you, when it doesn't leave a trace of doubt that any part of it wasn't meant to be. A writer can learn how to build a world and shape it to their will, but it takes an extra push to make it truly come to life, and that's not something that is done easily. When a book is real enough to make me forget that I'm reading – when I forget that it's a story, not something that actually happened – that is my favorite thing. That is what Shades of Magic has.
A Conjuring of Light is the last book in the series. It is over 600 pages, and it is still not enough. It left me aching for more. Finishing it is like coming out of warm water into the shivering cold. I am tempted to beg for a spin-off series, except that I know how those things usually go, and I am restraining myself (almost).
I could disect this book the way that I usually do, but the truth is that I just want to enjoy the pleasure that it brought me while reading it. Sometimes it's impossible to express why we love something, and I'm having a hard time finding the words for the magic of this series.