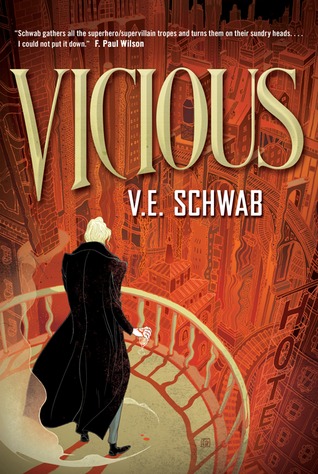 Vicious, by V.E. Schwab
Genres: Adult, Science Fiction
Rating: ✮✮✮
The absence of pain led to an absence of fear, and the absence of fear led to a disregard for consequence.
Morally ambiguous stories are some of my favorites. I'm drawn to them. I love anti-heroes, and I love the argument between what is right and what is wrong; what is considered to be "good" and what is considered to be "evil". Vicious does a great job of showing that they can be the same thing, with different people giving it different names.
I loved Victor's narration, and I was fascinated in his relationship with Eli when they were at university, how driven by jealousy and spite they both were. And even though I found him to be considerably less interesting than Victor, in a very twisted, sideways way, I understood Eli. I don't approve of him murdering EOs simply because they exist, but—at least in the beginning—he was trying to prevent what he and Victor had started. Vicious carries one of the same themes as Frankenstein, which is that humanity's greed to evolve can often lead to disaster, and by killing off EOs, he was trying to stop them from being exploited or causing humanity any harm. He just got way out of control, as anybody who treats themselves as God does.
I wish it had been a bit gorier. It's definitely dark, but I was hoping for more interaction between the two of them, like a game of cat-and-mouse. More action, essentially. I found Eli's chapters really boring, and I couldn't stand Serena at all. If she had been removed, then that would mean that Eli and Victor are ensuing this battle while also having to evade the authorities, who were waived onto Eli's side with her siren abilities. I think that would've been a lot more fun to watch. She made everything too safe.
This is the first of Victoria Schwab's adult novels that I've ever read, and I did like it. It wasn't quite as gruesome as I expected, though it did delight me here and there, especially when Eli and Victor clashed in chapter twenty-seven in the first part, when things went "horribly wrong". It was definitely vicious, but not enough for me.