"Mystery Blogger Award" is an award for amazing bloggers with ingenious posts. Their blog not only captivates; it inspires and motivates. They are one of the best out there, and they deserve every recognition they get. This award is also for bloggers who find fun and inspiration in blogging; and they do it with so much love and passion.
– Okoto Enigma
---
THE RULES:
1. Put the award logo/image on your blog.
2. List the rules.
3. Thank whoever nominated you and provide a link to their blog!
4. Mention the creator of the award and provide a link to their blog as well.
5. Tell your readers 3 things about yourself.
6. You have to nominate 10-20 3 people.
7. Notify each of your nominees by commenting on their blog.
8. Ask your nominees any 5 questions of your choice; with one weird or funny question (specify).
9. Share your link to your best post(s)
---
I can't believe I was tagged. Holy shit! Thank you so much, Emma! 😀 (Check out her blog, she's amazing.) ❤
Facts:
I'm learning Japanese! It's my favorite subject, and though it's difficult, once you understand the structure, it's a bit easier to understand. I want to live in Kyoto when I'm older, so learning the language was a necessity.
I play the piano. Not well, mind, but I do play and I love it. There's something really relaxing about a piece coming together. I also really want to learn the violin, but I can't afford the lessons at the moment. 😦
My best friend introduced me to BBC's Sherlock and now I'm in hell. Help.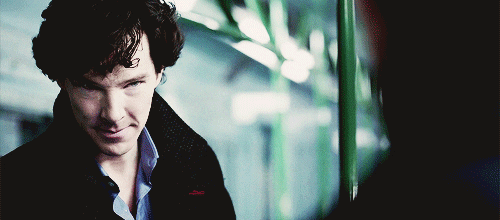 ---
Emma's questions!
What quote has changed your life (name the book it's from!)?
"So, this is my life. And I want you to know that I am both happy and sad and I'm still trying to figure out how that could be."
The Perks of Being a Wallflower is one of my favorite books, and it's very quotable. The one above is the one that stuck with me the most, though, because it's so simple, yet it relates to something we all feel: the complexity of human emotion, how we can feel multiple, contrasting things at once. I thought I was the only one that had ever felt like that until I read that quote.
What's the best book you have ever read?
I'm going to have to nominate Maggie Stiefvater's The Raven Boys, since it's my favorite, but also because I've never read anything like it, and that's not something that I can say very often, you know?
Favourite character from a book/movie/anything?
Tobio Kageyama from Haikyuu!! I should actually make a list of these, because I think it would be interesting.
Do you buy books knowing you're never going to read them?
Oh yes. All of the time. It's a bad habit. I'll buy a book because I've heard of it, or because it's a classic and I just have to have it in my collection, but the truth is that I'll probably never get around to it, especially if it's really long.
 I'm going to steal Kayla's question. What song is stuck in your head right now? (Link it if you can!)
YES! I love this question. Right now, it's "カンタンナコト" by The Oral Cigarettes. (That roughly translates to "Something Simple.")
I listen to too much J-rock.
Have a look!
---
Okay, my turn!
If you could go back in time to any period, which one would it be?
Do you have a song that reminds you of a person/place?
If you could slip inside of a book, which one would it be?
Which book/TV character would you marry, and why?
What's your favorite inside joke?
---
I tag….
That's if they want to or if they haven't been tagged already, of course. 😛 *Has no backbone.*