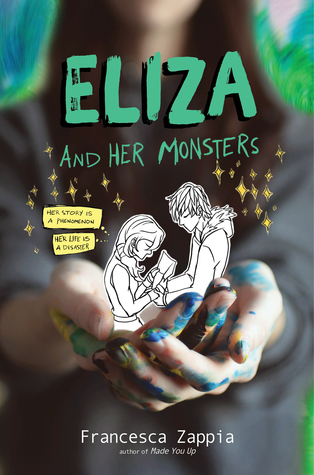 Eliza and Her Monsters, by Francesca Zappia
Genres: Young Adult, Contemporary
Rating: ✮✮✮✮
There are monsters in the sea.
Warning: This is a slightly personal review.
Eliza and Her Monsters is extremely relatable. It deals with social anxiety, which is something that a lot of people suffer with. It shows how, despite all logic, our minds can twist our biggest fears around and turn them against us.
I relate with Eliza on a lot of levels, but my personal experience reading this book might be a little different. See, I used to be exactly like Eliza. I didn't realize it, but throughout high school, I didn't talk to my peers very often. I purposely avoided working in groups or attending any of the events, including prom. I ate lunch in the library, even though I wasn't supposed to, because I hated the idea of sitting in the cafeteria. I tried to hide as much as I possibly could, all because I was terrified of talking to my classmates and having them either ignore me or shut me down. I didn't want them to even look at me.
My senior year of high school brought a lot of changes to my life, and I started to open up a bit more. By the time I graduated, I had gained some confidence. I wasn't popular, but I wasn't invisible, and I was comfortable with that.
I have mostly overcome my social anxiety – mostly. I'll admit that sometimes I get extremely freaked out whenever I have to talk to someone that I have a crush on, and my best friend will attest to this, because she's had to listen to me fret and whine for years. I didn't realize how far I'd come until I read Eliza and Her Monsters and I saw in Eliza who I used to be.
I was so frustrated with her. A lot of the time, I thought Eliza was being extremely immature, especially when she shut out her family. Every time her parents would try to approach her and get her to spend time with them, she would throw a fit, like she was twelve years old. She was abrasive, disrespectful, and selfish. She gave no thought to how others felt or what their problems were.
I used to be just like that. I used to do all of those things, and reading them through different eyes – from the outside looking in – completely sucked. It was also an eye-opener.
Every time Eliza's parents talked to her about how private she was and how she needed to be more sociable, I saw reflected in them my own parents, saying the exact same thing. I remembered how much those kinds of words irritated me – but, reading them again, I wasn't. It was like I was finally understanding what it was my parents had been trying to drill in me for so many years.
I am still pretty introverted. I detest parties. I hate being by myself in a group of strange people – but I'm not as afraid to talk anymore. As a matter of fact, the right person would probably say that I have a harder time shutting up.
The best part about Eliza and Her Monsters was Eliza's maturity. She learns how to conquer her anxiety and keep herself from getting worn out, and that is important to every person who has ever suffered from social anxiety. It has some nerd culture, yes, and quite a bit of the Francesca Zappia charm – of which I have grown fond of since I read Made You Up – but the most important aspect, and the one that will appeal the most, is how Eliza overcomes her fears – how, essentially, she slayed her monsters.