---
So, before I begin this shindig, here are my aforementioned reasons:
I have not posted anything in over a month.
I gave no notice that I was going away for a month, which could mean that I was a) unable to attain an internet connection, or b) that I was dead.
I had no proper reason for going away at all.
If I am being perfectly honest, it was because I wasn't well. Whenever I have a lot of free time, my mind tends to wander, and it goes places that I don't like. I need things to occupy myself, otherwise, I start to go crazy. Essentially, what I'm trying to say is that I should've been putting more effort into the blog instead of practically abandoning it altogether.
I am back now. If I need to step away for a while, I will make sure to give notice.
---
I stole this from icebreaker694, per usual. There are no specific rules. It was created by Jen Campbell on YouTube, and her description goes as follows:
Pick ten books from your shelves that you associate with a specific time and place in your life. Tell us the story behind your choices and what the books are about.
Here we go!
---
Openly Straight, by Bill Konigsberg
I read this book while I was in the middle of figuring out my sexuality. I was very confused, and this book, along with Rafe's confident personality, helped give me the extra push that I needed to come out to myself as bisexual. It would take another year for me to figure out that I was gay, and then another half of a year to come out to my parents. This book is the first in a long line of dominoes.
---
Vampire Kisses, by Ellen Schreiber
I remember checking this book out all of the time back in middle school, and even a couple of times in high school. I was transfixed by it. There is always going to be a part of me that loves black clothes, graveyards, heavy metal and haunted houses, and this book represents that part.
---
The Amazing Book is Not On Fire, by Dan Howell and Phil Lester
Okay, honest confession time: I don't really watch neither Dan nor Phil anymore. It is not on purpose; I have tried watching their videos, but I think I have matured and outgrown their sense of humor. Tragic? Yes. Extremely tragic. However, they – as well as this book – take me back to the days I spent holed up in my room, clicking video after video, because at the time, it was the only thing that could make me laugh.
---
A Trick of the Light, by Lois Metzger
When I was fifteen, I developed an eating disorder. I will not go into it because it is a story for another day. I didn't like this book, but it hits it so spot on. It tells the story from the perspective of anorexia, and the unreliable voice in Mike's head is exactly what it feels like to live with the disorder.
---
Harry Potter and the Deathly Hallows, by J.K. Rowling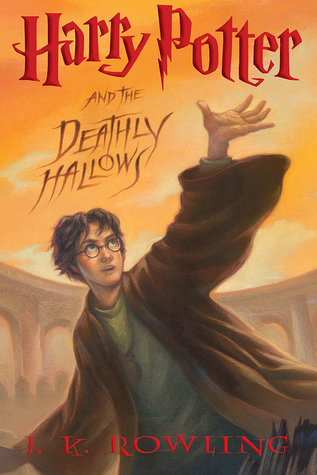 Is this a cliché? I think it is. Oh well. Instead of the first book, I chose the last one because I remember the exact moment that I finished it. I was twelve, sitting in social studies (when I was supposed to be working, of course), and I remember closing it and looking around the room, thinking, What the hell do I do now? It was like this big part of my life was over with, and now I had to read other books. The problem was that, after Harry Potter, for a while, I didn't know how.
---
The Iron King, by Julie Kagawa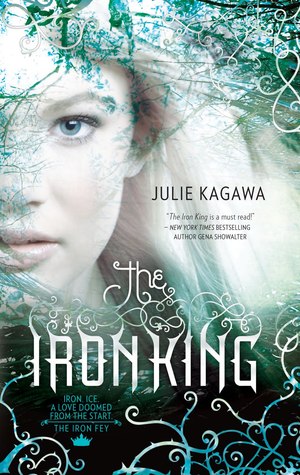 I've mentioned this book a lot, and I'm going to mention it one more time because it represents somebody important to me – my best friend. These books were her baby. When I showed her that I had checked out The Iron King, she freaked out and started screaming that they were the "BEST BOOKS IN THE WORLD" and "I LOVE THEM MORE THAN I LOVE CHOCOLATE-COVERED ESPRESSO BEANS." (She really loves chocolate-covered espresso beans.) This is not the first book we've bonded over, but it was one of the biggest. It also represents how I fell back in love with the infamous paranormal romance genre.
---
The Ruins of Gorlan, by John Flanagan
Yes, yes, this one is on here, too. It's because Ranger's Apprentice solidified a bond with my brother that had been missing for years. I have almost nothing in common with him; there is nothing that we share an interest in besides Harry Potter, and this. While I was reading it, we would talk about the books constantly. Sometimes we still do.
---
The Raven Boys, by Maggie Stiefvater
This is the part where there would normally be an awkward silence.
The Raven Boys is my favorite book, as I have mentioned, repeatedly, at least ten times a day for the past year. The reason why it's on here, though, is because it changed me as a writer. The Raven Cycle became the mountain that I wanted to climb, the light that I wanted to reach. I finished the series and thought, "I want to write a book that will make a reader feel exactly as this series makes me feel."
---
Drum Taps, by Walt Whitman
Emily Dickinson was my first favorite poet, but Walt Whitman was the one that made me understand why I love poetry. This collection is about the Civil War, and it made me cry – and I mean cry. I was sobbing so hard, I couldn't even read the page. After that, I started to write poetry myself, though I'm not confident enough to share it with anyone.
---
Wuthering Heights, by Emily Brontë
I do not like Wuthering Heights. I think I might like it more if I read it again, but I'll save that for a rainy day. I bought my first (yes, first) copy of Wuthering Heights when I was in sixth grade. I was roughly eleven years old. I had no idea that it was literature, and so when I started to read it, I felt like someone had smashed me over the head with a brick. Is this English? What does that word even mean? This was written when? And so forth. Wuthering Heights was my first classic, and I didn't finish reading it until I was fifteen. It reminds me of the moment I realized that there was a whole other world of books that I hadn't discovered yet, ones that I wouldn't be able to read until I was much older.
---
Whew. Okay, this was actually extremely hard for me to do. Because I am lazy, I will tag Gretchen @ Chicnerdreads and Sophie @ Blame Chocolate, because they are awesome, and also because I don't think they've done this yet. If they have or they don't want to, then, well. 😉
All right. I'm starving, so I will go make a sandwich. Until next time!