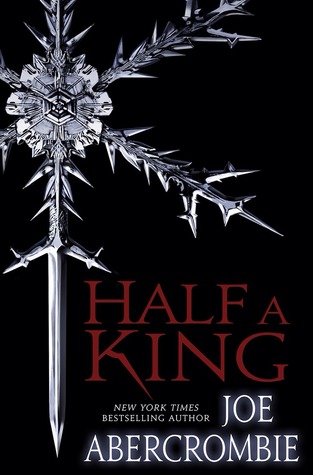 Half a King, by Joe Abercrombie
Genres: Young Adult, High Fantasy
Rating: ✮✮✮✮
"The fool strikes. The wise man smiles, and watches, and learns. Then strikes."
This book is marketed as YA, but to tell you the truth, that is not how it feels when you go into it. Maybe it's because I didn't know, but it could also be because there is something about this book that is very mature, and its brutality is something different from what I've experienced in YA before.
Half a King really hit it out of the park. It had me hooked the moment it introduced Yarvi, the second son of King Uthrik of Gettland, who has a crippled hand and is thus perceived as a weakling by his family and his kingdom. When his father and older brother are murdered, Yarvi is forced to take the throne in his father's place, a task that he is completely unprepared for. However, circumstances arise that throw Yarvi in a desperate fight for his life out on the high seas, and he must find a way to return to Gettland and reclaim his stolen throne.
High fantasy is a genre that has been so recycled, it's hard to find anything original as one story bleeds into the next. It's a genre that I'm drawn to but wary of due to its tendency to become very condensed. Half a King doesn't have a strong, detailed world, nor a complex religion or political structure – but that's actually its strongest point. It's not dense, but it's not light, either. It's the kind of fantasy that is developed enough to be enjoyable but not so much as to weigh it down.
Plus, the characters are fantastic. Yarvi may have been stripped of his birthright, but he is not exactly a tragic hero. He shows on various occasions his ability to manipulate and deceive. He is vengeful; his malevolence is controlled and calculative. He may not know how to wield a blade, but that doesn't make him any less terrifying. The others – Jaud, Rulf, Ankran, Sumael, and Nothing – were well-developed, intricately-written characters that I came to adore and fear for as they faced turmoil after turmoil.
I think the best part about Half a King is that there aren't any clichés. Abercrombie doesn't put his characters in a box, nor does he insert any plot devices to coax the story along. In a sense, he doesn't use any cheat codes. There's no deus ex machina. He tells the story honestly. (Though that doesn't stop him from throwing in a couple screwdriver plot twists, which you will NEVER SEE COMING.)
Joe Abercrombie? This guy? He knows how to tell a story. I will definitely be picking up the sequel and more of his books in the future.