First off, I just checked my stats and learned that I am at 99 posts, which makes this one the 100th post!
(K-Pop gifs because K-POP.)
Secondly, if you glance at my homepage, you will discover that my blog looks a little different.
…
Just a little.
No, someone did not hack into my account and throw a bucket of pink paint onto my blog – I did this. I've been wanting to remodel my blog for a very, very long time because every time I stared at it I felt very…unsatisfied. It made me anxious because I didn't feel like the person who designed this blog was the person I am now. So, I changed it.
That's right. This is supposed to represent who I am on the inside.
I am a giant ball of cotton candy.
I'm much happier with how it looks now, though it does make the title a bit ironic. (Though that was kind of the whole point anyway.) Regardless, I have finally done it.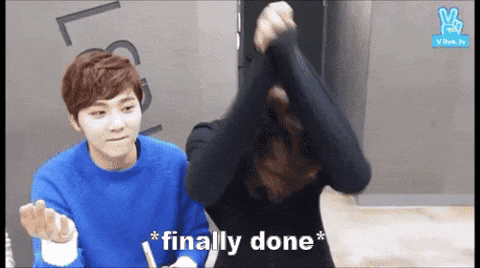 That is all I wanted to say. I plan to post more soon, since work is finally settling down a bit. (Though I am getting scheduled more hours. D: ) I may not be reading as much, but I have more motivation to read than ever before!
Until next time! ❤