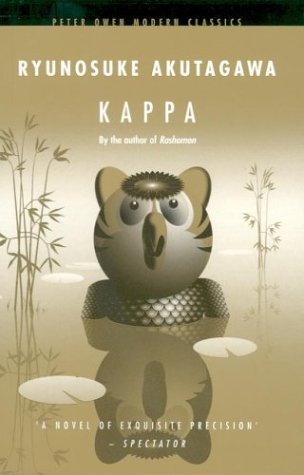 Original Title: 河童 (Kappa)
Author: Ryūnosuke Akutagawa (芥川 龍之介, Akutagawa Ryūnosuke)
Translator: Geoffrey Bownas
Genres: Literature, Japanese Literature, Satire
Rating: ✮✮✮✮
---
"I do not wish to be born. In the first place, it makes me shudder to think of all the things that I shall inherit from my father – the insanity alone is bad enough. And an additional factor is that I maintain that a Kappa's existence is evil."
---
I really enjoyed Kappa, but I don't know how to describe it in an appealing way, because it's weird – and I mean it's really, really weird.
It's a satire a lot like George Orwell's Animal Farm, but instead of politics, Akutagawa uses the fictional world of Kappaland to express his disgust of human beings, in particular himself. Akutagawa wrote Kappa during the last year of his life, while his already fragile mental health was deteriorating, not half of a year before he committed suicide in July 1927. In the story, an unnamed man falls down a hole into Kappaland, a world made up of Kappas, which are aquatic beings from Japanese folklore that have a tiger's face, a sharp beak, scales, and an indentation on top of their head that, so long as it holds water, allows the creatures to live on land. He discovers that the Kappas have their own civilization, and from that point on he begins to live among them.
The Kappas have different ethics and practices than humans do, and though they're not right by human standards, Akutagawa manages to twist it around and shove it back in the reader's face a certain way that gives a sense of understanding. For instance, in a particularly disturbing birth scene, the Kappa has the choice of whether it wants to be born. This, along with the breeding practices mentioned in order to eradicate "evil heredity", are subconscious indications of Akutagawa's fear that he had inherited his mother's schizophrenia. (The introduction claims that it's a possibility, and that it is what eventually led to his death, but it's impossible to say for certain.)
My favorite part is the end. There is a twist that Akutagawa kept until the very last few pages, and it wraps the story up nicely. When looked at from a distance, and after considering Akutagawa's condition when he wrote the story, it also makes a lot more sense.
I am fascinated by Akutagawa's work, because his stories are always filled with the weird, the grotesque, and the horrifying. I am more convinced than ever that although his stories aren't for everyone, to the right person, they are magnificent.